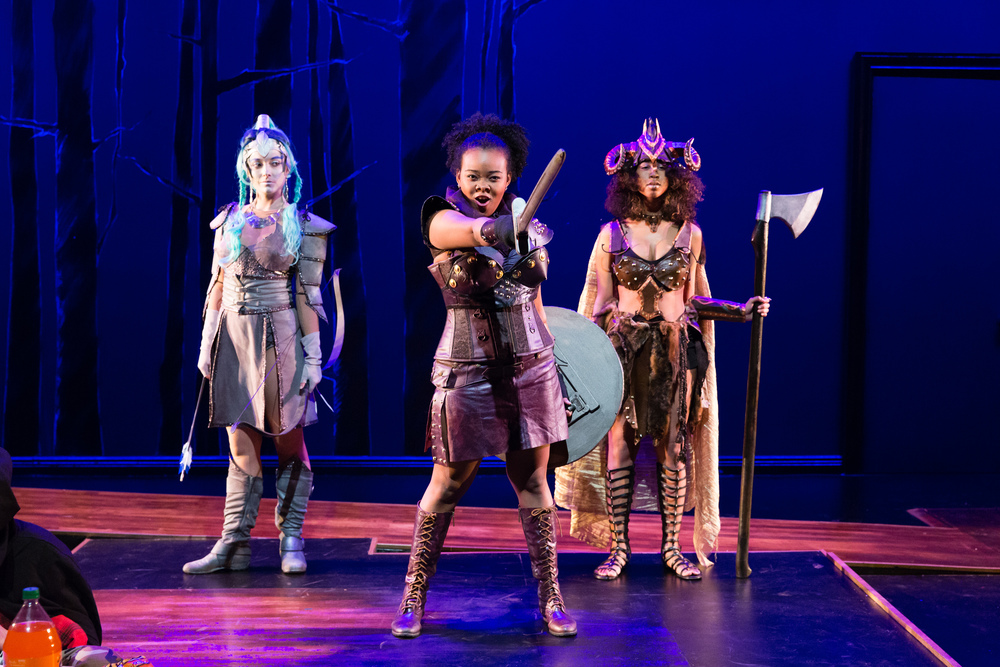 by Qui Nguyen

Directed by Glynis Rigbsy
Scenic Design by Michael Minahan
Costume Design by Seth Bodie
Lighting Design by Miriam Crowe
Sound Design by Beth Lake
ABOUT THE PLAY
She Kills Monsters tells the story of Agnes Evans as she move out of her childhood home in Athens, Ohio following the death of her teenage sister, Tilly. When Agnes finds Tilly's Dungeons & Dragons notebook, however, she stumbles into a journey of discovery and action-packed adventure in the imaginary world that was Tilly's refuge. In this high-octane dramatic comedy laden with homicidal fairies, nasty ogres, and 90s pop culture, acclaimed young playwright Qui Nguyen offers a heart-pounding homage to the geek and warrior within us all (www.samuelfrench.com).
SOUND DESIGN PROCESS
The design of She Kills Monsters was intended to blur the lines of Agnes' reality with the imagined world of Tilly's adventure. Popular music set the tone for the reality, while epic orchestrations underscored the world of the game. Guided by an ethereal Narrator, the audience is introduced to the two sisters, learns their story, and journey's into the sister's very different lives. As the show progresses, their two worlds melded together creating a new reality for Agnes. My goal was to create a distinctive soundscape for the Dungeons and Dragon's world contrasting with a bleak, silent world for Agnes. While in the game the ambience would be subtle, constant reminder of location, but would also overtake the action to support the wondrous fights (choreographed by Jason Paul Tate). Agnes' journey brings her to fight demons both metaphorical and imaginary. The saga culminates with a battle with the Taimat, a five headed dragon, representing Agnes' grief.
The most prominent inspiration for the show was that of the cult TV show, Buffy the Vampire Slayer. She wanted to create a mundane high school classroom that could suddenly change into a dramatic battle with a mythic creature, and then back again. As a design team, we decided that the juxtaposition of the two worlds needed to be seamless and simple. The ability to flash between worlds visually was incredibly important, particularly given challenges of the space. The scenic design was minimal, platforms that could transform into multiple locations with the a lighting shift. Costumes for the large ensemble were fantastical and would transport Agnes into the Dungeon's and Dragon's world instantly.
In order to achieve a seamless transition between worlds with the sounds design, I used two approaches. One was a quick cut with music, and the other was subtly creeping in a new environment. My inspiration for this was video game sound design. The ability to travel from location to location without a cut in music, or ambience was the driving force. I wanted to create a game world in which there was a constant soundtrack dictating the mood of the moment.